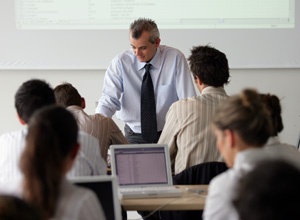 Stay competitive and compliant with a cost effective system to deploy and manage you training. Get up and running in quickly for a fraction of what you expect.
TTLMS is a powerful turnkey solution that enables development, deployment, and tracking of important training within your organization. Hosted on our cloud servers, your implementation of TTLMS is available to your employees wherever and whenever they have an internet connection, and can be branded using your corporate identity standards.
Our Rapid Setup System eliminates burdens to you HR and IT department, eliminates long rollout periods, and helps you identify how TTLMS should be implemented within your unique organization. TTLMS can be integrated into your existing IT infrastructure using real-time web services or batch processes over secure connections.
Full course development tools are available to your staff for creation of custom content. SCORM and AICC compatible courses can also imported to leverage content developed in other toolsets.
Competency is monitored through Mastery Test options using test you design. Individual and group progress can be monitored and tests can be validated with our statistical analysis tools.
Easy to use assignment and reporting tools allows group administrators and organizational administrators to craft the system to the training needs of you corporation and to easily monitor compliance.
Learning Enterprise Case Study
The Problem
A large mid-western hospital needed to improve both their means of collection and their management of training records. They also needed to leverage the power of online training to allow regulatory and continuing education courses to be taken as needed by their staff in five locations.
The Solution
Using TestTrack Learning Management System (TTLMS), they were able to launch and assign their mandatory HIPAA, health, safety, and specialty courses to those who needed them; manage progress; and generate reports. Immediately, accountability and user-satisfaction increased, and their record-keeping system vastly improved.